Major News
Alexandria Ocasio-Cortez, progressive US congresswoman, gathered more than 400K viewers on Twitch on her just launched channel while playing Among Us with popular streamers. That one of the most popular streams in Twitch history, and far more popular than previous stream by any politician. Shortly after that Among Us suffered a spam attack in game chat rooms by hackers who called to subscribe to a YouTube channel and vote for Trump… What is your bet: in what year AOC will become President of USA?
Creative director of Google Stadia alienated creators community by claiming that streamers (who just suffered a crack down of licensed music on Twitch) should pay royalties to game developers:
Google had to distances itself from controversial statement. And global head of gaming at YouTube voiced alternative opinion, more close to official:
Class action lawsuit filed against EA in Canada over loot boxes.
Tech
NASA and Nokia are putting a 4G network on the moon.
Apple is pulling web browser app Stadium that allowed users to access and play Google Stadia on iOS.
Amazon Luna launches into early access for invitees only.
The US government has filed antitrust charges against Google. But it's about search and search-focused ads, not "app tax" reduction as you could hope.
Unity partners with Playing for the Planet, Pledge 1%, and Rare Impact Fund.
TikTok restored in Pakistan following ban.
Deals
Scopely acquired Spanish studio Genjoy based in Seville (previously known as Genera Games, founded in 2002). Under the new name company launched debut title Tuscany Villa in April 2020, match-3 with meta about (guess what!) hotel renovation.
Indonesian EVOS Esports announces $12M investment round. Previously organization was known as Zero Latitude. Company website lists Indonesian and Thai teams competing only in mobile games, including two female only teams. But they also have Vietnamese LOL team.
---
Game Releases
Major Games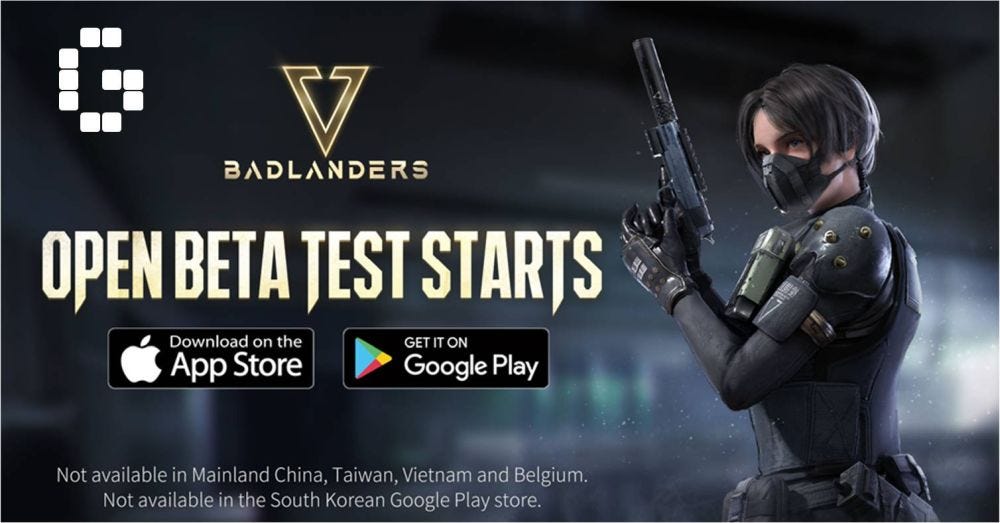 1.Badlanders by NetEase. Survival looter shooter with weapons customization and items trade between players. The launch is called "open beta-test". Game is available worldwide except several countries (see on banner above).
Licensed IPs
2.Taffy: Feed the Kitty by BTC Studio. Pinball-like puzzle based on animation series Taffy about racoon, who is disguised as a cat to live in a luxury mansion. (A Parasite?)
Medium & New Publishers
3.Atlantis Odyssey by Vizor Apps. Combination of a farming game and energy-gated exploration with a narrative story. Action takes place on a tropical island with traces of Atlantis civilization. Developed by Belarussian studio founded 13 years ago.
4.Chaos Combat Chess by Rogue Games. Autochess battler in portrait orientation.
5.House Flipper: Home Renovation by PlayWay. Detailed simulator of house renovations with first-person camera. From Polish publisher specialized on simulators. Released on Steam in May 2018 (Very Positive, 28K reviews).
Meaningful Games
6.[Un]defeated by SneakyBox. Interactive story about coming-of-age relationships presented as comics book. From Lithuanian developers. The game aims to rise awareness about tuberculosis and financed by Centre for Communicable Diseases and AIDS of Lithuania.
Top Downloaded Hypercasuals
1st time entries in top 15 of the US App Store
7.Force Master by Orbital Knight/Voodoo. Hypercasual FPS with a "gravity gun" functionality in your hands. Voodoo is leveling up the bar in HC production.
8.Restaurant Life by Good Job Games. 3D minigames around restaurant activities. Turkish publisher continues tradition of releasing games under developer accounts of employees - maybe to hide early prototypes from competitors. This game is published in App Store by Bekih Batuhan Celebi, publishing manager at Good Job Games. This is the first and only app in his account.
9.Mirror Cakes by Akatsuki. Make whimsical toppings for cakes by melting plastics-like substance. The first international release by Japanese company founded 10 years ago.
Premium Games
10.Far: Lone Sails by Okomotive/Mixtvision, $3.99. Drive and manage a bizarre vessel riding over the dried-out seabed in post-apocalyptic world. Developed by Swiss indie team. Released on Steam in May 2018 with Very Positive rating (6.5K reviews).
Apple Arcade
No new games this week.
Notable Indies
11.Let's Jump by TapMen. Variation on Fall Guys gameplay combined with the gathering of little men crowd. From a Romanian twin-brothers team, prolific indie developers.
Upcoming Games
Soft-Launched:
1.Onmyoji: The Card Game by NetEase. CCG with original art-style and characters from character collecting RPG Onmyoji based on Japanese folklore. Game is available in China and now soft-launched in Australia, Philippines, Singapore, and Thailand.
Pre-registration started:
2.Marvel: Realm of Champions by Kabam. 3v3 MOBA with superheroes and supervillains.
3.Millionaire Tycoon: World by SavySoda. Monopoly-styled game with real-world map, where you can buy properties around your location and lease them to tenants. Developed by Australian game and software company known for Pixel Starships, "starship management MMO".
4.Destiny Child: Defense War by Thumbage. Multiplayer tower defense with squad vs. squad on one screen in portrait mode. Characters are from Korean CCG Destiny Child.
5.Magatsu Wahrheit by KLab Games/Mobimon Inc. JRPG available in Japan since April 2019 is coming to global audience thanks to Taiwanese publisher.
(Almost) Cancelled
Plants vs. Zombies 3 by PopCap Games/EA. Tower defense in a famous franchise is retracted from soft launch and will be removed from stores on November 18. Company will continue development of the game.
---
Research & Market Data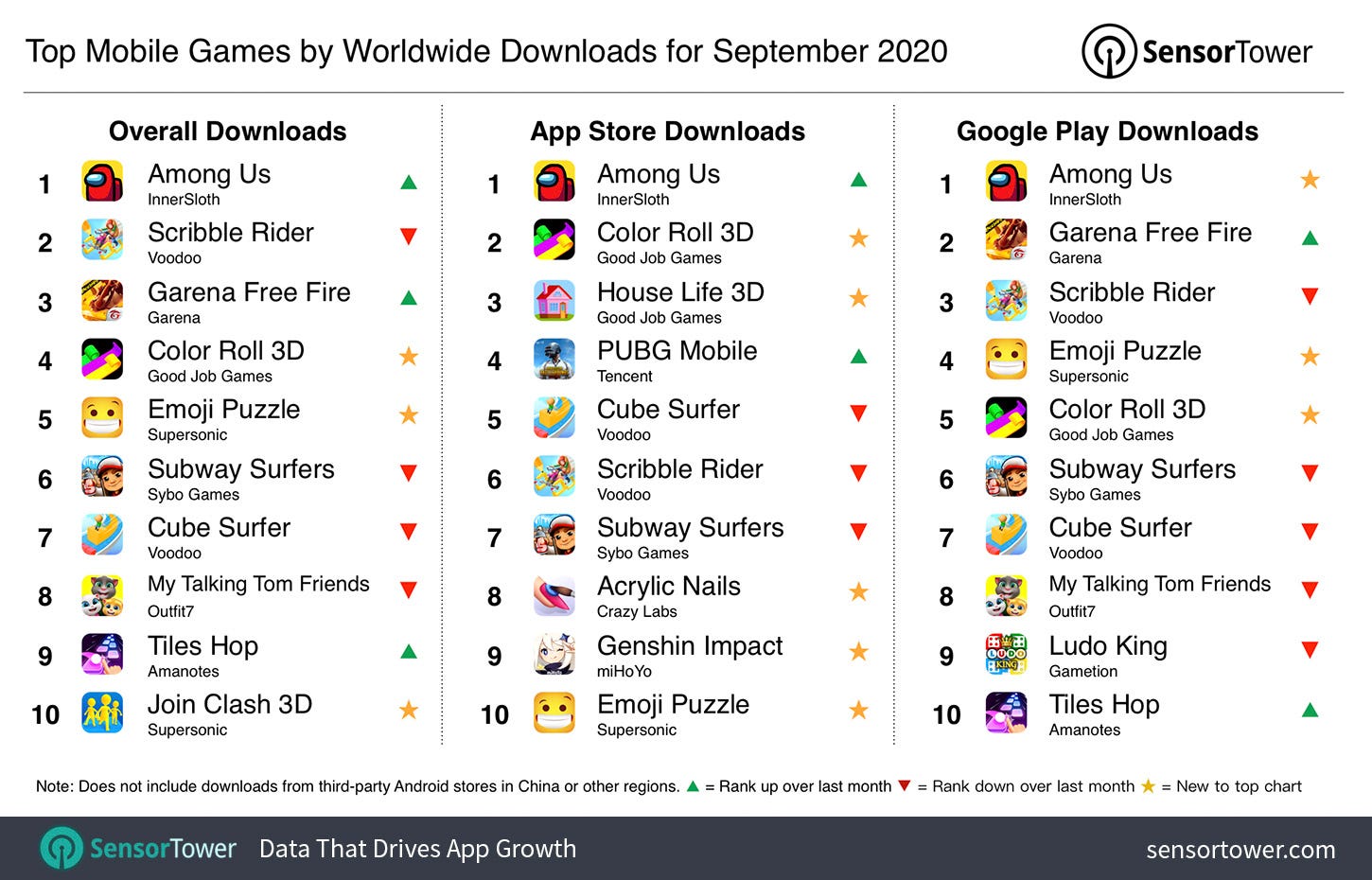 SensorTower Blog: September Top Revenue & Top Downloads.
SuperData: Digital games earned $10.7B in September 2020, up 14% year-over-year.
Roblox Mobile builds revenue past $2B as it sets a strong foundation for impending IPO.
Call of Duty: Mobile has topped 300 million downloads.
Dragalia Lost nears $150M worldwide revenue, Japan accounts for 50%. And there are just 3.9M downloads.
---
Read & Watch
---
Bonus Level - weekly newsletter by Maxon Pugovsky, producer of mobile games at Gameloft. Please recommend BL to your colleagues, if you find it useful. Got a forward? Subscribe or browse through archive: