Major News
Roblox could go public at $8B valuation. GameRefinery Roblox Deconstruction:
Launched on iOS in 2012 and became a sustained top 100 grossing game in 2016… Cementing its position as a top 10 grossing game in 2018… Quarterly revenue jumping from $22.1M (Q2 2019) to $69.3M (Q2 2020) in just a year.
While TikTok deal is still hanging in the air, judge blocked ban on app downloads in the US.
Glu Mobile launches real-life e-commerce store within Design Home. The cost of the real-world items varies from $10 to $1500. Players will also get in-game currency as a bonus for purchases.
Google will make Android 12 friendlier to alternative app stores, but apps in Google Play will have to use only Google's billing for digital goods from September 2021.
Google Play Pass launches in 24 EU countries. Google subscription service is still available just in several countries 1 year after the launch.
Rise of Kingdoms and Genshin Impact are skipping Chinese Android stores to avoid paying 50% app tax.
Antstream Can Stream Over 1,200 Retro Games for $10/month. Android is supported, but iOS - not.
Finnish mobile studio Armada Interactive has filed for bankruptcy. Startup was founded in 2016 and raised $10M.
---
Game Releases
Major Game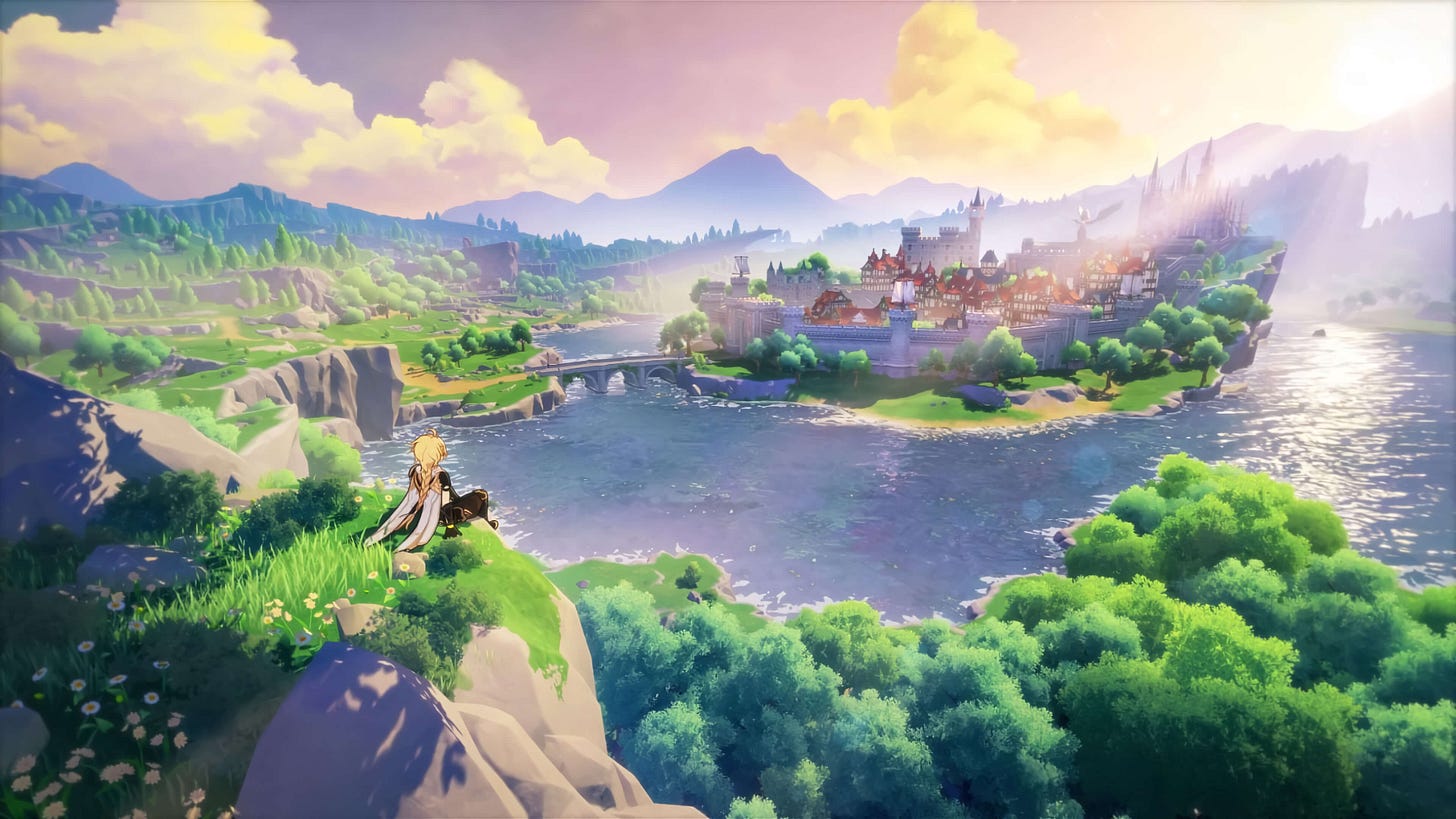 1.Genshin Impact by miHoYo. One of the most important mobile releases this year. Open world action-adventure RPG heavily inspired by The Legend of Zelda: Breath of the Wild. The same art direction but with much better quality of graphics, than in Nintendo's dated hit of 2017. Simultaneous release on PC and PS4 with crossplay. Players can acquire new characters and weapons through gacha IAPs. Production and marketing budget is claimed to be $100M. Previous hit Honkai Impact 3rd by Shanghai-based miHoYo grossed $760M since 2016.
Licensed IP
2.Hot Wheels Unlimited by Budge Studios. Construct tracks and race with toy cars on them. From Canadian developer specializing on kid games with toy IPs.
Medium & New Publishers
3.Arcane Showdown by Big Huge Games (Nexon). Real-time strategy from creators of DomiNations. Also released on Steam as F2P.
4.Solitaire Cruise by Belka Games (AppLovin). Cards with a travel-themed metagame.
5.Triviatopia Run by Etermax. Argentinian developer of hit Trivia Crack adds "trivia" to every possible casual genre.
6.Dear My Cat by Flero Games. Idle clicker from Korean developer about gathering cats on a pastoral island and keeping them happy.
7.Fantasy League by Divmob. Hero collecting RPG by Vietnamese studio.
8.Cooking Games Chef Cat Ava Delicious Kitchen by Nukebox Studios. Cooking game from Indian studio with the most ASO title ever.
Top Downloaded Hypercasuals
New games in top 15 of the US App Store
9.Stair Run by Inno Studio/Voodoo. Build stairs on the fly to pass obstacles.
10.Who is? Brain Teaser & Riddles by Unico Studio. Quiz-like game where you need to guess an answer from California-based studio.
11.Police Quest by Arcadian Lab/Coda Platform. Various gameplay tasks united by police theme. The game is developed in Pakistan and released by London-based publisher.
Premium Games
12.Monopoly Sudoku by Marmalade Game Studio, $3.99. Sudoku puzzle with Monopoly IP from Hasbro.
Apple Arcade
13.Slash Quest! by Big Green Pillow/Noodlecake Games. Isometric action adventure with puzzles, where sword is a main hero. Game prototype was developed during Ludum Dare #34 game jam.
Upcoming Games
Announced
1.Odin: Valhalla Rising by Lionhead Studios/Kakao Games. Open world MMORPG with Norsy mythology from Korean developers.
Pre-registration started:
2.Badlander by NetEase. Survival FPS inspired by Escape From Tarkov.
3.Dragon Quest Tact by Square Enix. Global release of tactical RPG available in Japan since July.
4.Guitar Girl: Relaxing Music Game by Neowiz. Music game with UI simulating livestreaming app from Korean publisher.
5.Forsaken World: Gods and Demons by Yoozoo. MMORPG from a major Chinese publisher.
Canceled Games
1.Farmville by Zynga on Facebook. The progenitor of farming games launched in 2009 is shutting down in December 2020, as Facebook discontinues support of Flash games.
2.Black Clover: Phantom Knights by Bandai Namco. RPG based on manga series will finish service in December 2020, near 2 years since release in Japan and 9 month since global release.
---
Research & Market Data
SensorTower - Mobile Games in Q3: 26.7% Y/Y growth reaching $20.9B in worldwide consumer spend in App Store and Google Play. The top five games generated $2.4B (12%). iOS users contributed 60% of the revenue, while generating just 16% of 14.2B first-time installs of new games.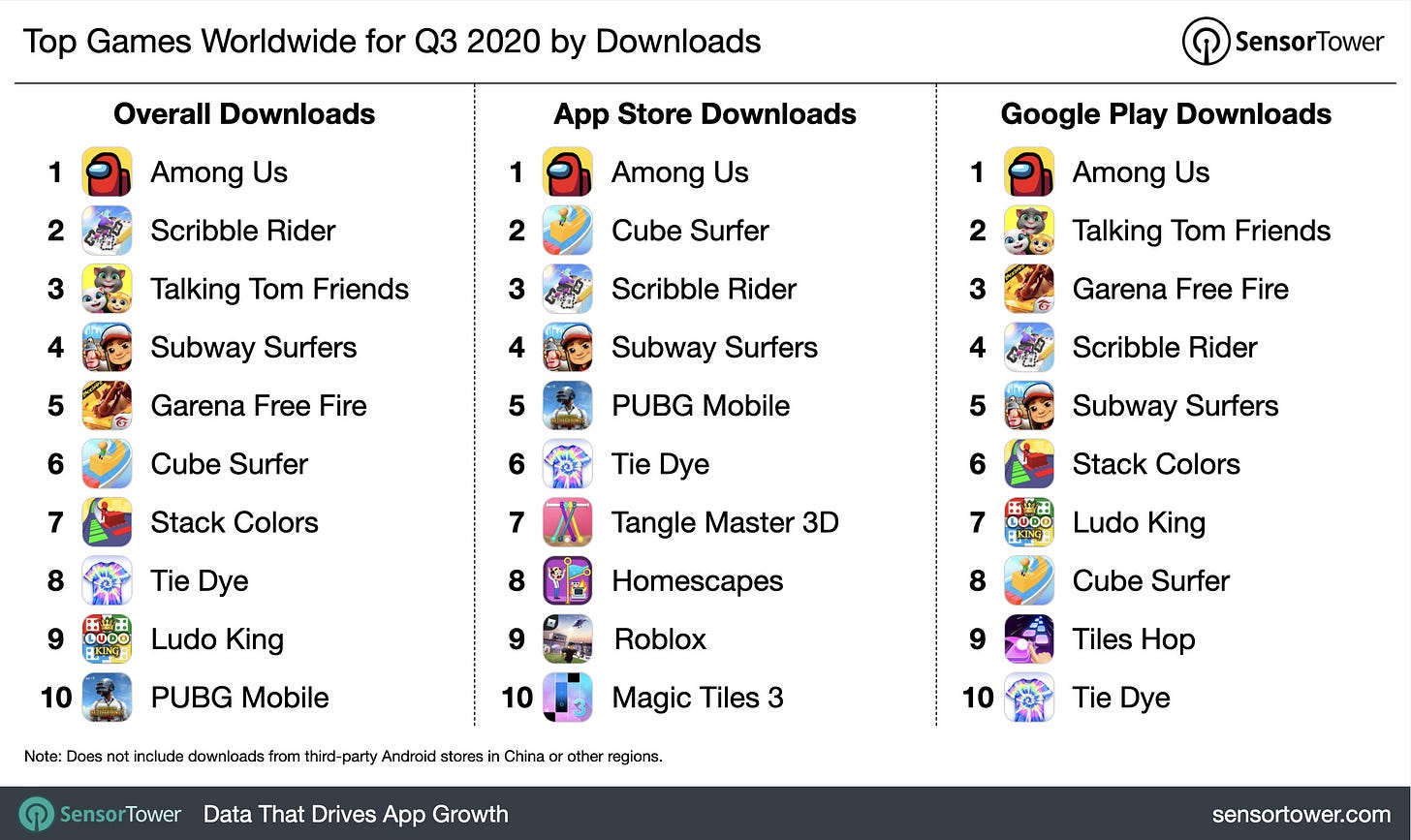 Niko Partners: Breaking Down the Preferences of Asia's Mobile Gamers. Overview of China, Japan, Korea, India, and Southeast Asia markets.
SensorTower: Call of Duty: Mobile Nears $500M in Player Spending in the First Year. And accumulated 46M pre-registrations for Chinese version.
Apptopia: Among Us! Creates a Hockey Stick for Discord's Downloads.
---
Read
What a healthy industry we are working in:
Just one week in headlines...
---
Bonus Level - weekly newsletter by Maxon Pugovsky, producer of mobile games at Gameloft. If you like newsletter, please recommend it to colleagues & friends:
Got a forward? Subscribe or browse through archive: